SonSetLink™ for Afridev Pumps
In February 2020, a team of engineers from SonSet Solution's Community Development Department started working on a new version of our SonSetLink, (a satellite-based clean water monitoring system) at the request of a partner ministry in Malawi.
SonSet Solutions is excited to partner with this ministry because they faithfully preach the gospel at each and every maintenance visit to their numerous wells across the country. They also partner with local churches in Malawi to further spread the gospel to people that come to the wells to get clean water.
In spite of the perceived difficulties of designing a new product in the midst of the current worldwide lockdown, four prototype units were completed, shipped and then installed on existing "Afridev" model well pumps in Malawi at the end of April and early May. One SonSet Solutions engineer said the design work was actually easier in many ways because there were less interruptions! The design team is now taking data from those prototypes to build a production model for this and other partner ministries that use Afridev pumps.
Praise God for taking a difficult situation and instead using it for His glory!
WorldCast Systems Transmitter Training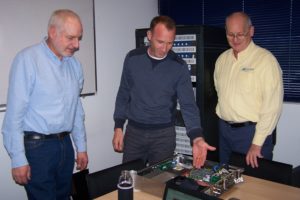 How do we stay current on changing technology and manufacturing techniques? For missionaries who are not in a manufacturing facility, one way is to go to a manufacturer and receive firsthand training. Such is what happened this past January as our technicians, Alan Good and Tim Zook, traveled to France to receive training on FM transmitters manufactured by WorldCast Systems in Bordeaux, France.
WorldCast manufactures a range of products for media and for testing at their ISO9001 facilities. Many countries where we send products for radio broadcasting are requiring ISO9001 certification on the equipment. ISO9001 certification is the provision by an independent body of written assurance (a certificate) that the product, service or system in question meets specific requirements. This standard is to ensure that customers get consistent, good-quality products and services.
Our training on the equipment has allowed us to more adequately prepare, setup, test and troubleshoot these transmitters. It also enabled us to assist our partners when they encounter transmitter issues, to help identify faults or resolve issues. This in turn will help reduce down-time for our partner's radio ministry, especially during this time in the world when information is vital concerning the current pandemic.
SonSet® Radio Work Teams
Last year, SonSet Solutions put out a call to area churches and volunteers for help preparing forty-eight hundred radios to be sent to partners in Peru and Uganda. The response from God's people was amazing. Eleven work teams made up of over 125 volunteers came to our facility over a five-week period before the close of 2019. Their partnership ensured that lost individuals in these distant parts of our planet would have an opportunity to hear the gospel of Jesus Christ. Twelve hundred radios will be distributed in Peru where the Quechua Indians will be able to tune in to the broadcasts of Radio Logos. Thirty-six hundred will be distributed among the refugees in northern Uganda where they will be able to hear a message of hope on Usalama FM.
Volunteers were blessed by this opportunity to be God's hands and feet. A few volunteers wrote to express the impact that this opportunity had. "It was a blessing to help test and package the radios, knowing that God was going to use them to deliver his message of salvation to the people in Uganda." Another volunteer wrote, "…the fellowship was sweet and there was a real sense of ministry that filled the afternoon. May God use these radios for his glory!"
Debugging Software
For the last year and a half, a team of SonSet Solutions engineers led by Cody Hall have been working in close cooperation with our satellite modem vendor to track down a complicated software bug in their device. This bug had been hampering our efforts to design and build new versions of our satellite-based SonSetLink™ water monitors.
But in late 2019, we finally pinpointed the problem and worked with the vendor to come up with a solution. As a result, Cody took a quick two-day trip to South Carolina in December to reprogram 125 SonSetLink units that we had already sold and shipped to a partner ministry. These units contained a creative work-around feature to let us still use the satellite modems, but in a slightly less efficient manner. Cody and staff from the other ministry spent 10 hours reprogramming the modems and our electronics, and then he caught a plane home the next morning.  We are thankful for God's impeccable timing and guidance in identifying the bug and a solution before these monitors were shipped from our partner ministry's headquarters in the U.S. to various locations all over the world.
TWR FM Transmitters
When 10 nearly-new FM transmitters from Norway were offered to our partner TWR, they jumped at the opportunity. However, the transmitters needed to be evaluated, tested and modified before they were ready to ship to their final destinations. That's when they contacted SonSet Solutions.
Dave Pederson and SonSet Solutions' Larry McGuire, both TWR engineers, set to work on the project. Together they created a proof-of-performance checklist, re-wired the power supply to accommodate a different voltage, and changed the operating frequency for the first of the transmitters. They also worked together to redesign the ventilation system. The Rohde and Schwarz design received pressurized cooling air from the bottom of the rack, which sat on a raised floor. For their new homes, a ventilation hole was cut in the bottom of the left side-panel and a blower installed to provide a new source for cooling air. Once the first transmitter was completed, Larry modified and tested the remaining nine units. Finally, special heat-treated shipping crates were needed in order to satisfy the importation requirements of their new host countries. Four of the transmitters are now in the hands of TWR's Peruvian partners and will soon be broadcasting the gospel.
Power Quality Monitor
Many of SonSet Solutions' international ministry partners, using sophisticated electronic equipment, are at risk of equipment damage due to unreliable electrical power. Imagine the frustration experienced by a Christian radio station or a mission hospital when their expensive equipment is destroyed in an instant by something so esoteric as the electricity coming from their outlets. Is the problem with their provider, with how they set up their facility, or due to the way their neighbor is using power next door?
During the summer of 2019, two interns, Maury Funez and Michael Dubisz, began the development of a solution – a low cost power quality monitor. This device will help visualize the abstract electrical power quality by measuring and recording specific properties of the electricity at a ministry location. This data will then be transmitted via the Internet to the team of engineers at SonSet Solutions. They, like a team of doctors, can examine the symptoms, write up a diagnosis, and prescribe a treatment in the form of an affordable power quality solution tailored to a specific partner's need. The power quality monitor is in the functional prototype phase, and plans are under way for their deployment. Soon they will be helping ministries overcome their electrical power quality problems, effectively increasing their reach into local communities.
Solar Media Broadcaster
Traditionally, when ministries approach SonSet Solutions, it is for help building a Christian FM radio station with a range of about 10-15 miles. The installation averages about $20,000, and several staff are needed to operate it. SonSet Solutions is working on a radically different concept to help ministries and churches reach the lost in their immediate neighborhood.
We are developing a small, modular Wi-Fi system to "broadcast" Christian content up to about 100 yards, depending on the terrain. It will be a portable, self-contained unit that can be placed on the rooftop of a church, for example,  and provide a variety of content to nearby cell-phone users 24 hours a day, 7 days a week. The content can be tailored to the needs and interests of the micro-community that the church wants to reach.
It all costs less than $500 and doesn't require any full-time staff to operate it. Because it is not a real FM radio station, there are no government applications, red tape or delays to deal with. It could be purchased, installed and broadcasting all in the same day helping our ministry partners more efficiently and effectively reach their immediate communities with the Good News of Jesus Christ!
Christian Techies Unite!
Yes, being a Christian and a techie can be perfectly normal and purposeful in ministry. It is possible to share both profound spiritual conversations and technical discussions. The International Conference on Computing and Mission (ICCM) is the place where people can go to meet other Christian technologists who are striving to advance Jesus' Great Commission by using their skills.
Understanding the joys and realities that come with combining technical things and ministry allows for networking and sharing the "latest and greatest" ideas and experiences within our rapidly changing world. For example, the "What's Hot/What's Not" session is an opportunity to share both practical advice and common struggles. What are you buying? What are you NOT buying? What are you getting rid of? What about anti-virus and malware?
Our own Dr. Leon Amstutz led a session this year discussing electronic equipment power protection and grounding practices. This issue is particularly important in developing countries where electrical power surges can destroy expensive, sensitive equipment. Sharing ideas, observations, and know-how provides an avenue for more effective use of technology, bringing the gospel to every nation.