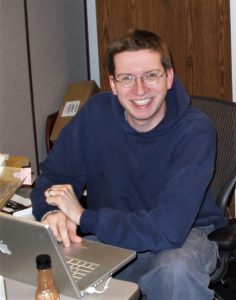 What began as a three-month internship for one college graduate turned into three years of volunteering at SonSet Solutions, lifelong friendships, and, more recently, a renewed relationship with SonSet Solutions.
Clint Herron had just graduated from Taylor University in 2003 with a degree in computer engineering. He came to SonSet Solutions to work on a radio automation project for his summer internship but wanted to keep working on the project beyond the three-month time period. He worked part-time locally and continued to volunteer with us.
In 2004, Clint and his college sweetheart were married. Jennifer joined the team and did anything from drywall mudding to serving as the president's executive assistant for a year.
"I came expecting to have a lot more to offer," Clint says. "I was surprised by how much more I received than what I contributed to the work. The fellowship and example of mature Christians were invaluable for me as a young man. I got to see what it looks like for an engineer to be a man of God." The project was eventually discontinued, and Clint felt that he needed to gain professional experience elsewhere.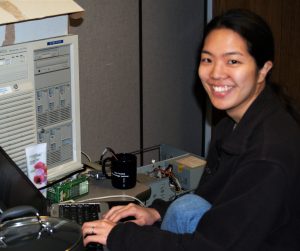 Before moving on to a full-time job, Clint and Jennifer took a short-term trip to Ghana, West Africa, to help set up the Sub-Saharan Africa office of our partner Reach Beyond. During their two months there, Clint helped with construction and electrical and networking wiring, while Jennifer taught at a local Christian school. The work was done by visiting-American teams and Ghanaian nationals. One afternoon, when Jennifer was helping on the construction site, one of the Ghanaians was singing. She had picked up enough Twi (the local language) to understand the song's chorus: "Jesus, my friend, my best friend." The Bible tells us that people of every tongue will worship the Lord, but it's quite a privilege to personally experience a foretaste of it.
Since leaving SonSet Solutions, Clint has done computer programming in a variety of industries, including audio, robotics, and mobile app development. This past year, Clint has begun volunteering for us again, working on an app for SonSetLink™ software that will allow SonSet Solutions and their partners to monitor water wells from a mobile device. "I've matured a lot as a person and as a programmer, and I understand project management a lot better. I really want to give back to the people who invested so much into me."
Written by Jennifer Herron