Our 2021 Year in Review is hot off the press! Rejoice with us as we bear witness to the things that only God could accomplish, causing his work to abound in many different places and ways.
To receive the print version, email your request to connect@SonSetSolutions.org.
Click HERE to view the 2021 Year in Review brochure.
Therefore, my beloved brothers, be steadfast, immovable, always abounding in the work of the Lord, knowing that in the Lord your labor is not in vain. — 1 Cor. 15:58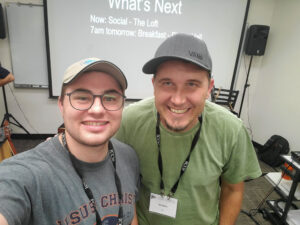 We bring our experience and knowledge together to help tackle Kingdom-wide computer concerns, lift each other up with prayer and technical council, and exchange information to help each other throughout the year.
Read more...
SonSet Solutions provides technology-based solutions to advance the gospel worldwide. But what really drives us? What is our ultimate goal? What is in store for the future? This video will address some of those questions and more.
Would You Like to Partner with Us?
We are here to help you find a solution for your ministry. Contact us.
Let's see how we can work together to advance the gospel.