SonSet Solutions has implemented a phased return-to-work plan. Therefore, some of our staff are working in the office, while others are still working from home. However, all of our staff are able to access their office phone messages and email. So please leave a voicemail message with your name and phone number, and we will return your call as soon as possible. For general inquiries or Donation Services, you may call (574) 970-4252. We are not receiving visitors at this time.
---
Data Point – Madagascar Shop Keeper
Joseph thanks the staff of SonSet Solutions for the technology solutions we develop to help people, like this shopkeeper, who is thankful to receive a SonSet® solar-powered radio receiver.
---
Project Highlights
WorldCast Systems Transmitter Training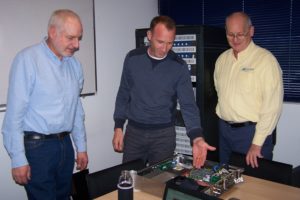 How do we stay current on changing technology and manufacturing techniques? For missionaries who are not in a manufacturing facility, one way is to go to a manufacturer and receive firsthand training. Such is what happened this past January as our technicians, Alan Good and Tim Zook, traveled to France to receive training on FM transmitters manufactured by WorldCast Systems in Bordeaux, France.
WorldCast manufactures a range of products for media and for testing at their ISO9001 facilities. Many countries where we send products for radio broadcasting are requiring ISO9001 certification on the equipment. ISO9001 certification is the provision by an independent body of written assurance (a certificate) that the product, service or system in question meets specific requirements. This standard is to ensure that customers get consistent, good-quality products and services.
Our training on the equipment has allowed us to more adequately prepare, setup, test and troubleshoot these transmitters. It also enabled us to assist our partners when they encounter transmitter issues, to help identify faults or resolve issues. This in turn will help reduce down-time for our partner's radio ministry, especially during this time in the world when information is vital concerning the current pandemic.
View more project highlights.
---
"Technology for abundant life!"
Jesus said, "…I have come that they may have life and have it more abundantly." John 10:10 ESV