We recognize the importance of prayer and how vital it is to our ministry. Are you interested in getting three prayer requests each week so you can pray for current needs as they happen?
We have two tools available for you:
Weekly Email -- Prayer requests are sent to your email inbox once a week.
PrayerMate Mobile App -- Use the free App on your smartphone and get one prayer request at a time, scheduled on different days of the week.
Click here for more information about both tools: https://sonsetsolutions.org/pray/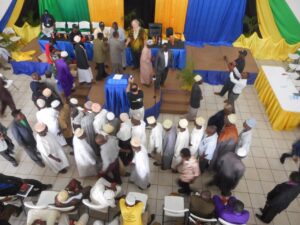 With its population of over two-million people, the city of Kigoma is fertile ground for a message of hope. Missionaries Lowell and Claudia Wertz, from Joy in the Harvest, offer that hope through their station, Radio Joy.
Read more...
An Open Door for the Gospel
Paul exhorts the Colossians to pray that God will open a door for the gospel. Providing clean water for a rural community often opens such a door. But how do you keep that door open when over a third of all the hand pumps on the African continent are not functioning and one of the most common pumps tends to fail within 8 months of installation.
SonSet Solutions provides remote monitoring technology for clean water hand pumps in some of the remotest parts of Africa. Join Jonathan on his quest to ensure that SonSet Solutions can keep the clean water flowing.
Would You Like to Partner with Us?
We are here to help you find a solution for your ministry. Contact us.
Let's see how we can work together to advance the gospel.